Oil Markets In Limbo Ahead Of OPEC Meeting
U.S. West Texas Intermediate and international-benchmark Brent crude oil futures are in a position to settle the week higher after hitting new highs for the year earlier in the week. However, Friday's price action suggests investors are still waiting for a bullish catalyst to trigger another surge to the upside and finally break out of its trading range in a decisive manner.
Supply Issues Supportive
The OPEC-led production cuts which began on January 1 and the U.S. sanctions against Iran and Venezuela have been carrying crude oil prices higher for months, but gains have been limited by concerns over rising U.S. inventories and production. However, these worries were lifted on Wednesday, at least temporarily, with the release of a bullish EIA inventories report.
Wednesday's weekly EIA report for the week-ending March 8 showed U.S. commercial crude oil inventories fell as refineries hiked output.
Crude inventories dropped by 3.9 million barrels in the last week, to 449.07 million barrels, compared with analyst expectations for an increase of 2.7 million barrels. U.S. crude oil production also dipped, falling by 100,000 barrels per day (bpd) to 12 million bpd.
Additionally, in Venezuela, oil production and exports continued to be disrupted by a political and economic crisis that has caused massive blackouts and supply shortages. According to reports, two storage tanks exploded at a heavy-crude upgrading project in eastern Venezuela on Wednesday, according to an oil industry source and legislator.
In Other News…
OPEC and its allies are scheduled to meet in Baku, Azerbaijan over the weekend to review its output policy, although most analysts expect the cuts to continue for now.
"We don't think anything will be agreed this weekend. But, we suspect the group will make noise about the ongoing effort to keep this market in balance," ANZ bank said on Friday.
Additionally, data analysts Refinitiv said that the combination of the OPEC-led cuts along with output reductions from Iran and Venezuela have had an effect on global crude flow data, leading to expectations of a slight supply deficit in the first quarter.
Demand Concerns Creep into Picture
So far oil demand hasn't been a major factor influencing the price action, but given the economic slowdown in Asia and Europe, and possibly in North America, it may soon have a major impact on prices.
A recent report from China showed the economic powerhouse imported 6.1 percent more crude oil during the first two months of the year to a record 12.68 million barrels per day, compared to last year.
Furthermore, the U.S. bank said January global crude oil demand growth was "nearly 2.0 million barrels per day, with visible strength in both emerging markets and developed economies".
Additionally, Goldman Sachs said earlier in the session that "Oil demand concerns are overdone."
IEA Offers Its Assessment of Current Conditions
On Friday, the International Energy Agency said Venezuela's worsening crisis, including nationwide power outages, could present a "challenge" to the oil market. However, it also added that OPEC now had spare production capacity of 2.8 million barrels per day, partly on the back of intensifying production cuts, which should provide a "cushion."
The IEA also said output had fallen by 240,000 barrels a day last month, to 30.68 million barrels per day, its lowest level in four years. A report from OPEC also showed similar results.
Furthermore, the IEA also said the crude oil market could show a modest surplus in the first quarter of 2019 before flipping into a deficit in the second quarter by about 0.5 million barrels per day.
Technical Analysis
Weekly May West Texas Intermediate Crude Oil Technical Analysis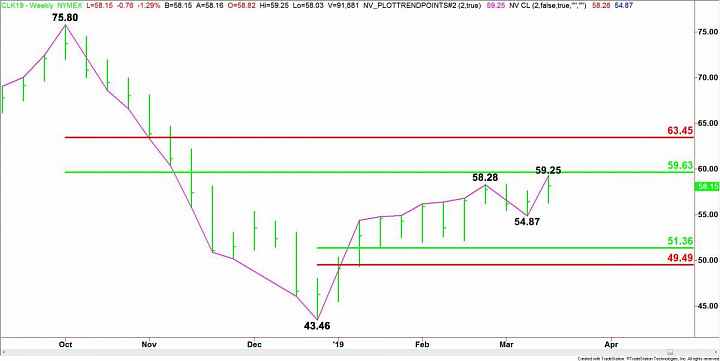 (Click to enlarge)
The main trend is up according to the weekly swing chart. This week, the market reaffirmed the uptrend when buyers took out the previous main top at $58.28. A trade through $54.87 will change the main trend to down.
The main range is $75.80 to $43.46. Its retracement zone at $59.63 to $63.45 is the primary upside target and potential resistance zone.
The new short-term range is $43.46 to $59.25. If the trend changes to down on a trade through $54.87 then its retracement zone at $51.36 to $49.49 will become the primary downside target.
Based on this week's price action, the direction of the May WTI crude oil market next week is likely to be determined by trader reaction to the major 50% level at $59.63.
Taking out $59.63 and sustaining the rally will indicate the presence of strong buyers. If this move creates enough upside momentum then look for an eventual rally into the Fibonacci level at $63.45.
A sustained move under $59.63 will signal the presence of sellers. If this move generates enough downside momentum then look for a near-term challenge of the main bottom at $54.87. This price is a potential trigger point for an acceleration to the downside with the next major downside target zone coming in at $51.36 to $49.49.